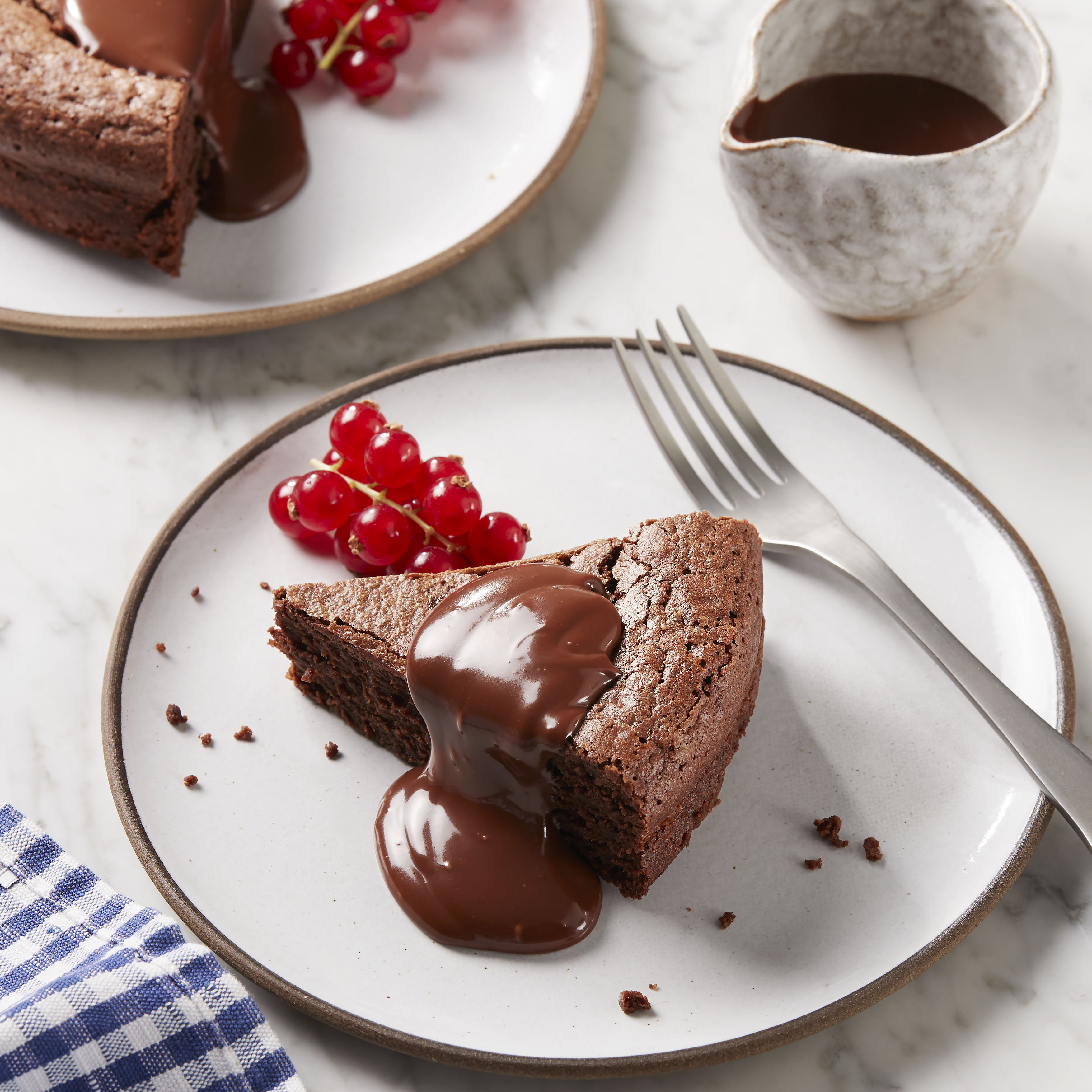 Chocolate Cake With Creamy Chocolate Sauce
Chocolate Cake With Creamy Chocolate Sauce
Prep time

20 minutes

Ready in

Servings

10 portions

Difficulty

Medium
Ingredients
For the chocolate cake
200 g Flora Buttery cubed plus extra for greasing
200 g dark chocolate broken into chunks
4 large free-range eggs
200 g caster sugar
50 g plain flour
50 g ground almond
For the chocolate sauce
284 ml pot Elmlea double cream
50 g caster sugar
100 g 70% cocoa dark chocolate broken into chunks
20 g Flora Buttery
pinch sea salt
To serve
Nutritional Guidelines (per serving)
(Nutrition information is calculated using an ingredient database and should be considered an estimate.)
Instructions
First, make the cake. Preheat the oven to 180C/160C fan/gas 4. Grease and line a 23cm loose-bottom circular cake tin.
Melt the Flora Buttery and chocolate in a heatproof bowl over a pan of boiling water. Set aside to cool for 5mins.
Whisk together the eggs and sugar until light and fluffy before gently folding in the chocolate and Flora Buttery. Sift over the flour and almond, stir to combine then tip into the prepared tin and bake on the middle shelf of the oven for 35-40mins until a crust has formed and a skewer comes out cleanly when inserted in the middle.
To make the chocolate sauce, heat the Elmlea Double and caster sugar in a pan until it starts to steam. Remove from the heat, add the chocolate and Flora Buttery and allow to melt. Stir to combine and season with a small pinch of sea salt.
Serve the chocolate tart with a drizzle of chocolate sauce and a few berries.
Freeze the cake in slices to make ahead