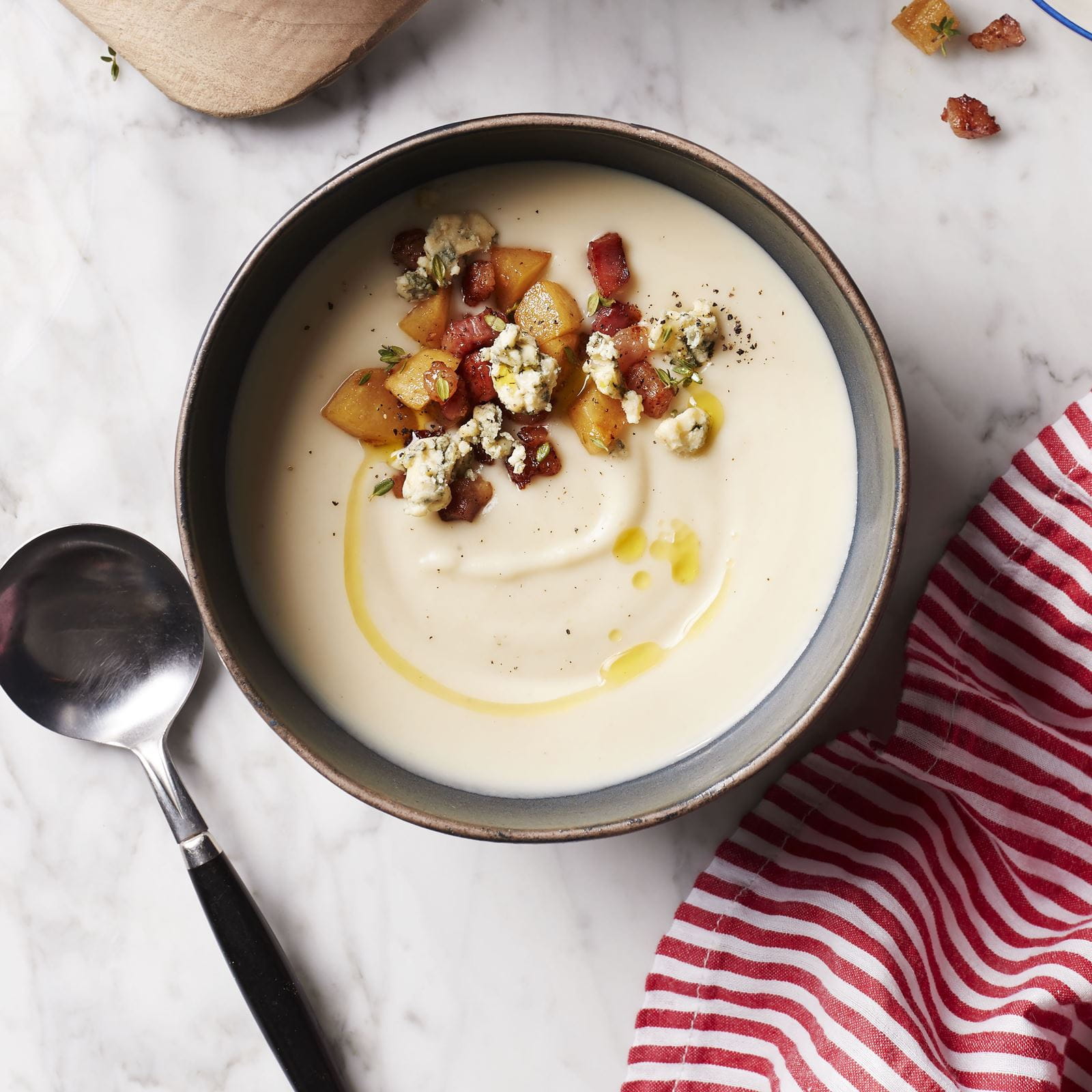 Parsnip Potato Soup
Parsnip, Potato, Pear and Stilton Soup
Prep time

25 minutes

Ready in

Servings

4 portions

Difficulty

Easy
Ingredients
600 grams parsnips peeled roughly chopped
4 Conference pear peeled cored roughly chopped
1 baking potato peeled cut into 2 cm pieces
1 onion peeled roughly chopped
1 tbsp vegetable oil
1/2 tsp ground nutmeg
2 tsp thyme leaves picked extra to garnish
2 chicken stock cubes dissolved in 1L boiling water
200 grams smoked pancetta
100 mL Elmlea single cream
1/2 lemon juice only
100 grams stilton crumbled
Nutritional Guidelines (per serving)
(Nutrition information is calculated using an ingredient database and should be considered an estimate.)
Instructions
Preheat the oven to 200C/180C fan/gas 6.
On a large baking tray, toss together the parsnips, pears, potato, onion, oil and nutmeg until well combined. Season with salt and freshly ground black pepper and roast in the oven for 40mins, tossing occasionally, until softened and lightly caramelised.
Place a few pears on a plate and cover with foil and to keep warm. Transfer the remaining contents of the baking tray to a large pan along with the thyme and stock. Bring to the boil and simmer for 15mins.
Meanwhile, fry the lardons in a frying pan over a medium heat until crisp and golden. Remove with a slotted spoon to a plate lined with kitchen paper.
Remove the soup from the heat and add the Elmlea Single, lemon juice and half the stilton. Blend with a stick blender until smooth. If the soup is too thick add boiling water to achieve your desired consistency. Season to taste with salt and pepper.
Divide the soup between 4 bowls and top with the remaining pear, stilton, lardons and a drizzle of Elmlea to serve.
TIP: Freeze any leftover soup to enjoy at a later date.