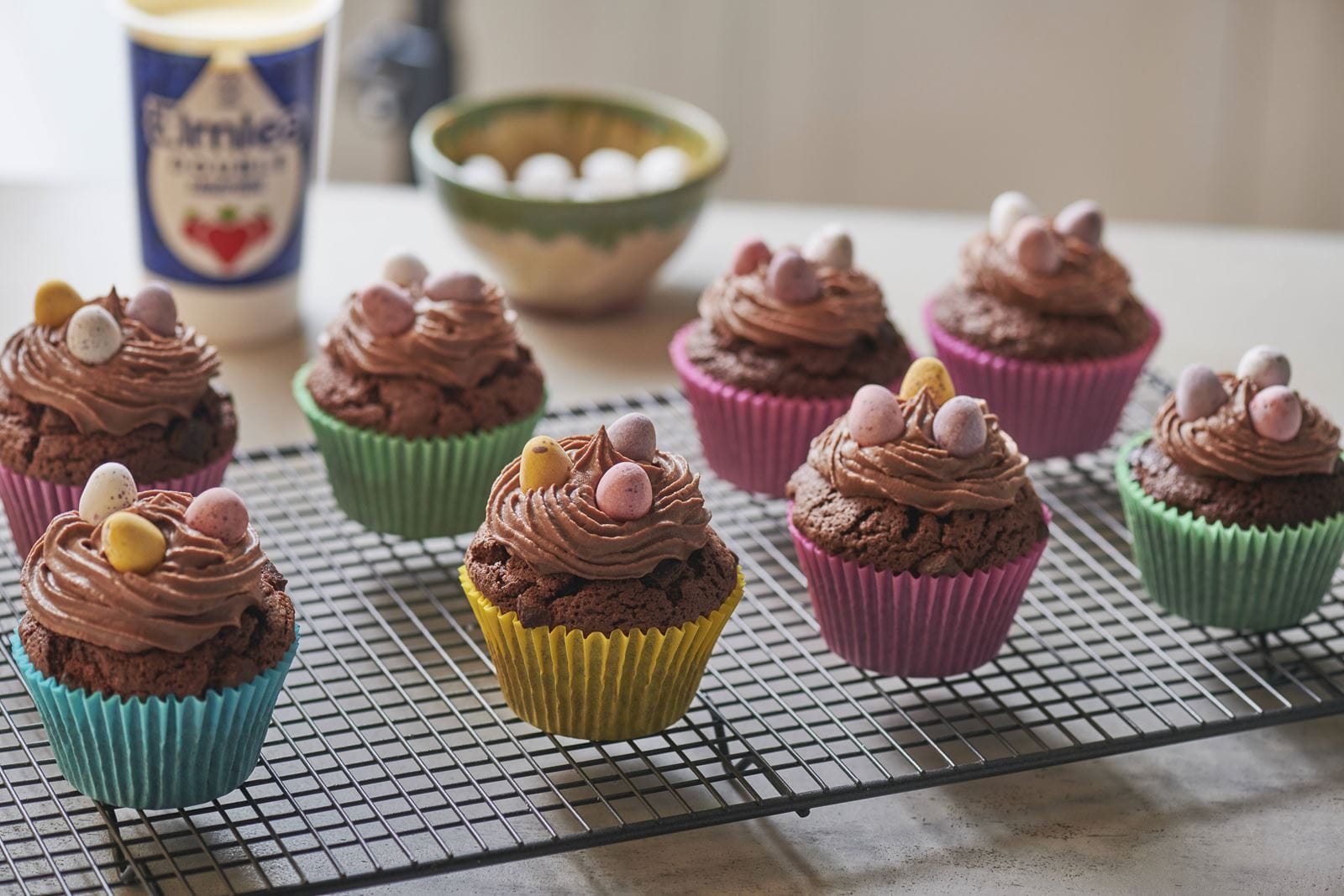 Chocolate Easter Muffins
Chocolate Easter Muffins
Elmlea 'Emily's Easy Easter' Recipes
Elmlea 'Emily's Easy Easter' Recipes
Prep time

20 minutes

Ready in

Servings

12

Difficulty

Easy
Ingredients
175 g unsalted butter
225 g golden caster sugar
3 large eggs
220 g self raising flour
100 g dark chocolate
50 g milk chocolate drops
2 tbsp cocoa powder
pinch of salt
Ganache
Garnish
mini eggs whole or crushed
Nutritional Guidelines (per serving)
(Nutrition information is calculated using an ingredient database and should be considered an estimate.)
Instructions
Pre-heat you're oven to 180*c / gas 4.
Line a 12 hole muffin tin with paper cases.
Melt the chocolate and butter in a heatproof bowl of barely simmering water. Don't let the base touch the water and keep an eye on the water, making sure it doesn't get too hot.
Leave to cool.
Beat the sugar and eggs until light and fluffy. Fold into the cooled chocolate.
Sieve in the flour, cocoa powder and salt. Fold until you have a smooth batter.
Divide between the muffin cases and bake for 20 minutes, until risen.
Leave to cool in the tin, transfer to a wire rack to cool completely.
For the ganache, finely chop the chocolate and place into a heatproof bowl.
Warm the Elmlea and caster sugar in a saucepan, do not boil. Pour the warmed Elmlea over the chocolate and leave it for a few minutes, stir until you have smooth glossy finish.
Cover with cling film and leave to cool, then place in the fridge for a couple of hours to set.
Now whisk the ganache until light and fluffy, ideally with an electric hand whisk then pop into a piping bag with a nozzle and pipe a swirl onto each muffin.
Sprinkle over some crushed mini eggs and enjoy.