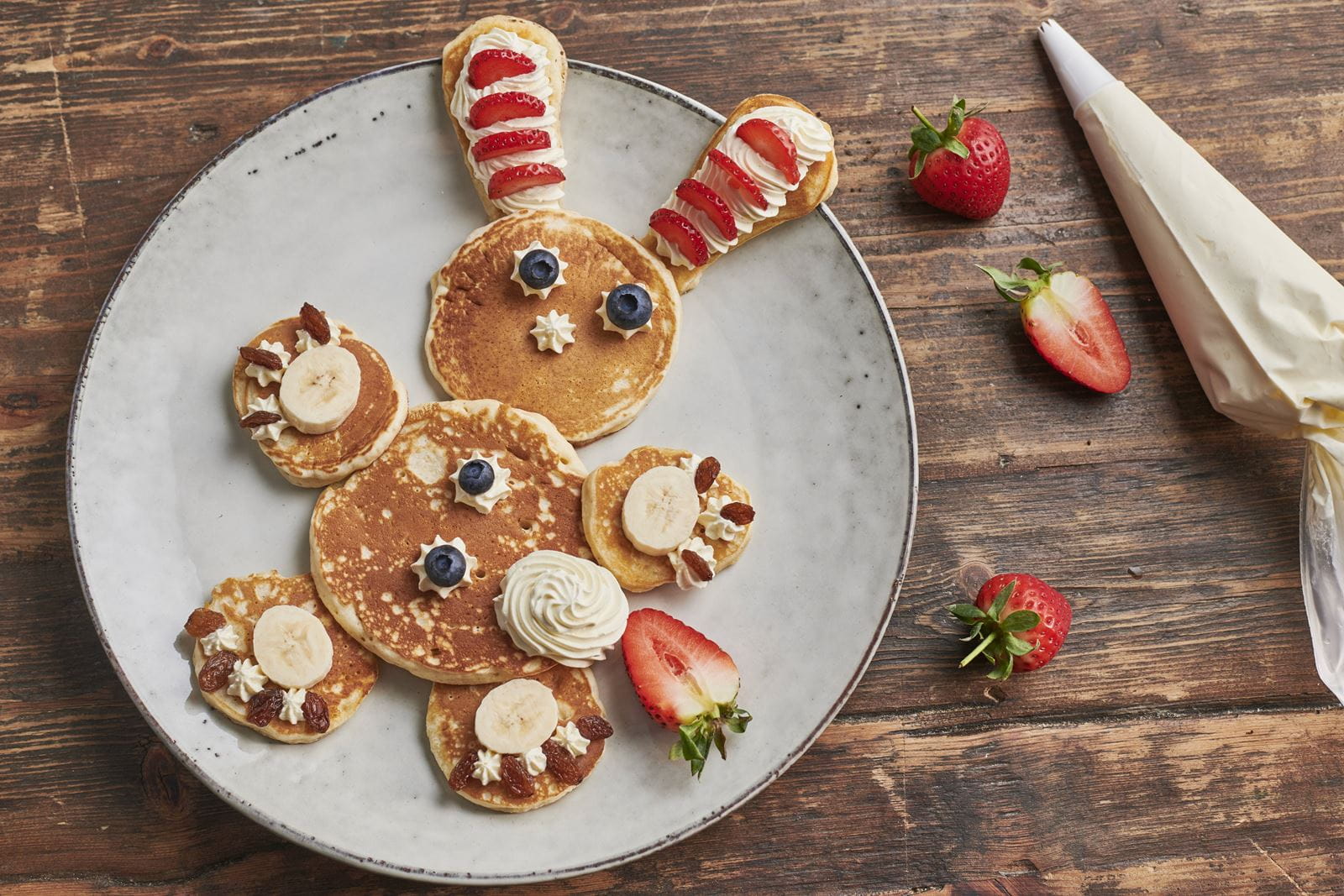 Bunny Pancakes
Bunny Pancakes
Elmlea 'Emily's Easy Easter' Recipes
Elmlea 'Emily's Easy Easter' Recipes
Ready in

Servings

2

Difficulty

Easy
Ingredients
135 g plain flour
1 tsp baking powder
1/2 tsp salt
2 tbsp golden caster sugar
135 ml milk
1 large egg
2 tbsp melted butter
A little sunflower oil
To serve
Elmlea Double

maple syrup
bananas
blueberries
strawberries
sultanas
Nutritional Guidelines (per serving)
(Nutrition information is calculated using an ingredient database and should be considered an estimate.)
Instructions
Sieve the flour, baking powder, salt and sugar into a mixing bowl.
In a jug whisk together the milk, egg and melted butter.
Pour the milk mixture into the flour and whisk until smooth.
Heat a non-stick frying pan over a medium heat. Add 1 tsp of sunflower oil and swirl around the pan.
Using a ladle, add a generous amount of the batter in a round for the bunny's body. Cook until bubbles start to appear on the top, flip over and cook for 30 seconds and remove from the pan.
Now do two slightly smaller rounds for the Bunny's head.
Eight small ovals for the hands and feet, and 4 longer strips for the ears.
Place the body pancake towards the bottom of the plate, leaving some room to add the head and ears, if the ears overhang that's ok.
Place the two hands and feet either side of the body.
Whip the Elmlea until soft peaks. Using a piping bag and nozzle, pipe a lovely rose on top of the pancake for the tail and also along the ears.
Place the sultanas to look like toes, sliced banana for the feet pads, and add blueberries for the eyes.
Place sliced strawberries into the Elmlea and finally drizzle with a little maple syrup.