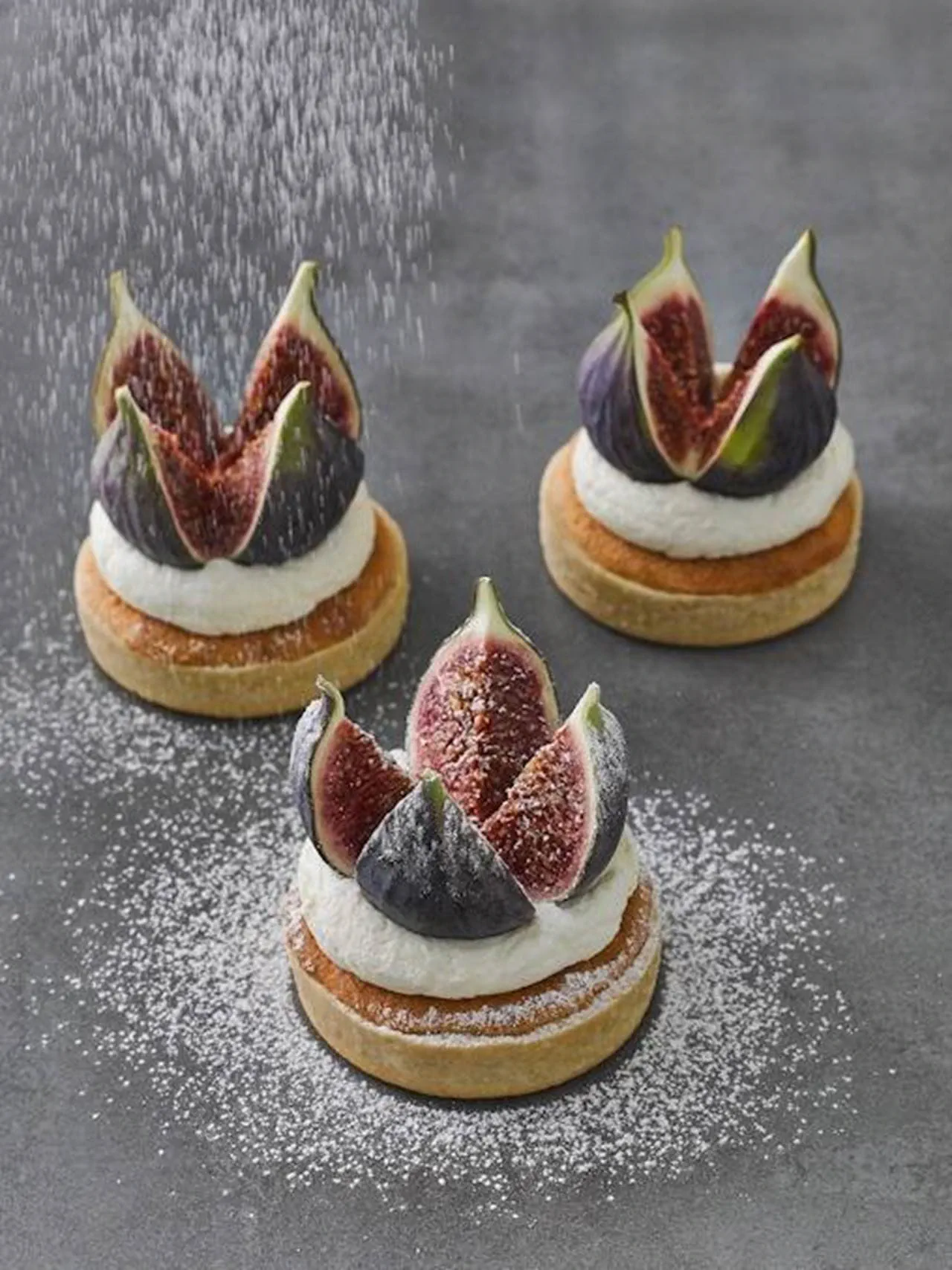 Vanilla and Fig Tarlets
Vanilla and Fig Tarlets
Prep time

40 minutes

Ready in

Servings

8

Difficulty

Hard
Ingredients
500 g fine flour
300 g Stork block
150 g sugar
50 g water
Frangipane
80 g Stork block
100 g water
2 g salt
400 g almond paste
5 g lemon zest
Vanilla Mouse
10 g Corn Starch
2 g vanilla extract
50 g water
500 g Elmlea Plant Double
Nutritional Guidelines (per serving)
(Nutrition information is calculated using an ingredient database and should be considered an estimate.)
Instructions
To make the pastry, place the flour, Stork Block and sugar into a food processor and blitz until mix resembles fine breadcrumbs. Add 2 brimming dessert spoons of cold water and blitz again until a dough just forms. Turn out onto a floured surface, roll out thinly and line 8 tartlet tins, trim the pastry. Allow the pastry to rest for 15 minutes in the fridge.
To make the frangipane, mix together all the frangipane ingredients in a stand mixer for 5 minutes.
To make vanilla mouse, dissolve the corn starch in the water and heat to below boiling. Add the vanilla extract and allow to dissolve, then mix in the Elmlea. Beat the mixture until it is a yogurt-like thickness.
Fill the pastry three-quarters full with frangipane and bake at 180 degrees for 18 minutes.
Pipe vanilla mousse onto the cooled tartlets, decorate with quartered figs and dust with icing sugar.