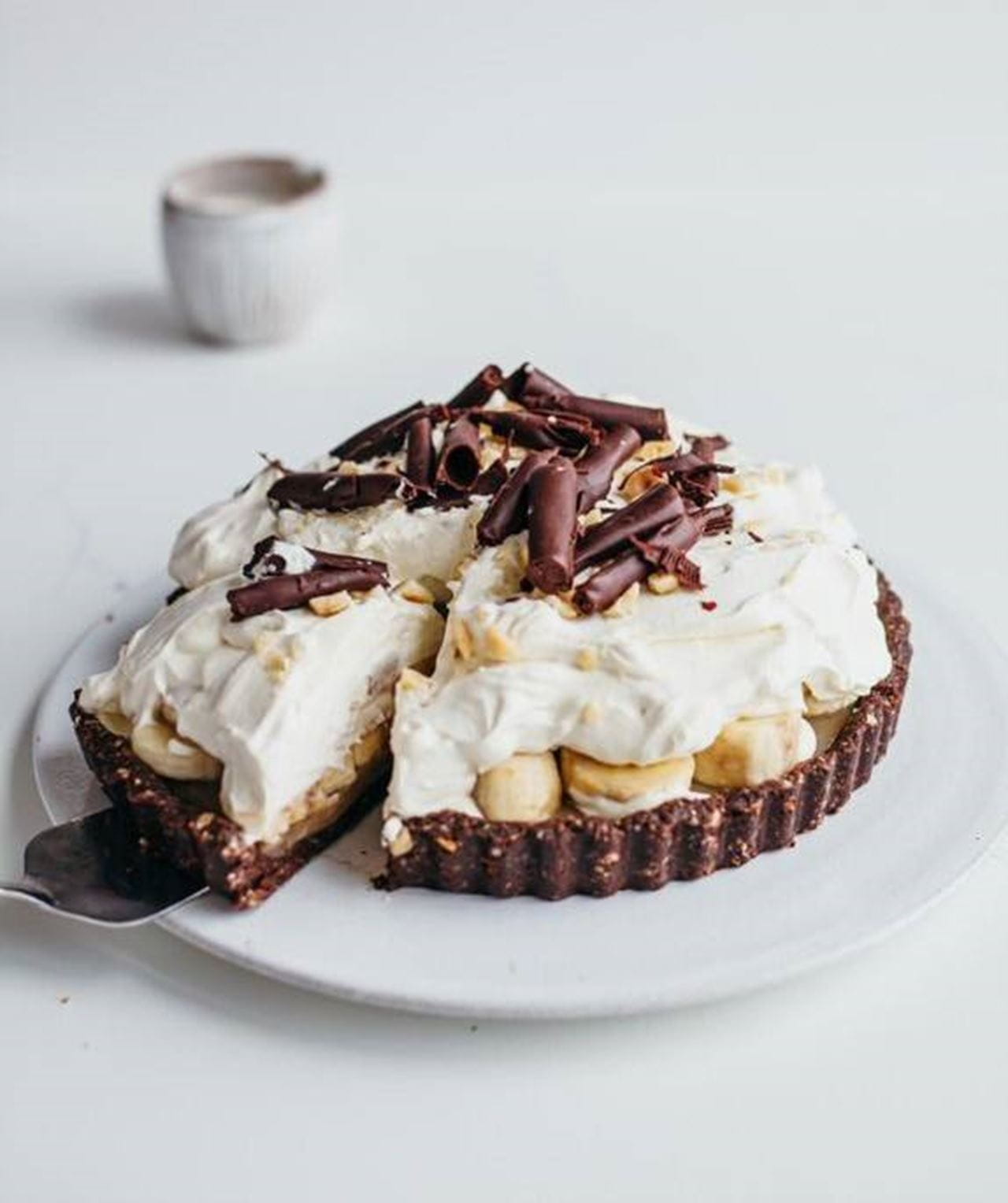 Chocolate & Hazelnut Banoffee Pie
Chocolate & Hazelnut Banoffee Pie
Prep time

25 minutes

Ready in

Servings

8

Difficulty

Medium
Ingredients
200g vegan biscuits
30g blanched hazelnuts (plus more for decorating)
1.5 tbsp cocoa powder
2 tbsp maple syrup
3 tbsp vegan butter (Flora Plant)
400g coconut milk
2 tbsp cornflour
1 tsp vanilla extract
100 g light brown sugar
salt

200ml Elmlea Plant Double

2 bananas
50g vegan dark chocolate to decorate (optional)
Nutritional Guidelines (per serving)
(Nutrition information is calculated using an ingredient database and should be considered an estimate.)
Instructions
Line the base of a 20cm tart tin with baking paper.
Add the vegan biscuits, hazelnuts, cocoa powder and maple syrup to a food processor. Then melt the vegan butter in a microwave and add it to the food processor. Process the mixture until broken down and it holds together when pressed between your fingers. Transfer the base mixture to the tart tin and use your fingers to evenly spread it across the base and sides.
Next transfer 3 tablespoons of the coconut milk to a small bowl and stir in the cornflour until it forms a paste. Then add the remaining coconut milk to a saucepan over a medium - high heat along with the vanilla extract, sugar, pinch of salt and cornflour paste from earlier. Bring the mixture to the boil, stirring regularly, then reduce the heat and simmer for 20 minutes until it forms a thick caramel.
Pour the caramel straight into the tart tin and leave to cool to room temperature, then transfer to the fridge to set for 2 hours.
When you're ready to serve, slice the bananas into 1/2cm thick rings and lay them over the caramel. Next pour the Elmlea Plant Double into a mixing bowl and whisk until it forms stiff peaks and has doubled in size. Spoon the whipped cream over the bananas and spread it all over the pie.
To finish, roughly chop a handful of hazelnuts and the dark chocolate, then sprinkle both all over the banoffee pie.